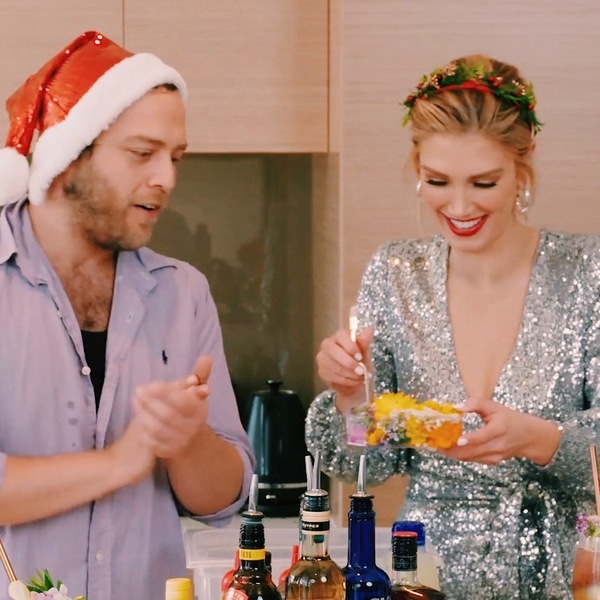 Delta's holiday recipes
Delta shares her recipe for a 'Merry Christmas To You' cocktail that is sure to spread good cheer this holiday season.
MERRY CHRISTMAS TO YOU RECIPE
INGREDIENTS

Simple Syrup (30 grams boiling water and 30 grams refined sugar)
Lavender Syrup (Pour your hot simple syrup over 1 lavender sprig, then let it rest and infuse!) (30 mls)
Vokda (30 mls)
Chambord (30 mls)
Lemon Juice (30 mls)
Triple sec (couple of drops)
Ice (1 scoop)
Sparkling lemonade
Sliced lemon, lime, mint and edible flowers for garnish (optional)
DIRECTIONS
Step 1: In a drink shaker combine the Vodka, Chambord, Lemon Juice, Lavender Syrup, Triple Sec and a scoop of ice. Shake until cold and frothy and pour into a glass!
Step 2: Top off with sparkling lemonade, sliced lemon, sprig of mint, sliced lime and edible flowers.
Step 3: Sip and enjoy!
ONLY SANTA KNOWS RECIPE
INGREDIENTS
Chocolate cake (2 pieces)
Bourbon
Coconut cream (45 mls)
Simple syrup (30 mls)
Angostura bitters (3 splashes)
Spiced gin (15 mls)
Chocolate bourbon (spash)
Grated or powdered chocolate, candy and cherries (optional for garnish)



DIRECTIONS
Step 1: Pour bourbon over chocolate cake and muddle together to infuse the flavors!
Step 2: Strain and pour the bourbon and cake mixture into your glass
Step 3: Combine the remaining ingredients into a shaker.
Step 4: Pour mixture from shaker into glass, top off with grated or powdered chocolate, candy and cherries